A small closet in a Miami home was transformed by Vintage Cellars, a top-notch builder known for its expertise in designing and building stylish wine rooms. Limited space did not hinder the team from creating a wine display with impressive wine rack features. Learn more about this wine cellar project. 
A Small Closet Wine Cellar: How Experts in Miami Built it
When building a wine cellar, challenges are inevitable. However, when you work with a master builder like Vintage Cellars, no problem can hinder them from building your dream wine cellar. Vintage Cellars is one of our partners in wine cellar construction. Their expertise and extensive knowledge in building wine rooms make them one of the most sought-after builders in Florida.  
In one of their projects in Miami, the homeowners requested them to transform a small closet into a climate-controlled wine storage room for their collection. They utilized a closet that measures 7 feet wide, 5 feet deep, and 9 feet high.  
Custom Wine Racks: Design and Features 
The racking design and material play a crucial role in achieving the overall appeal of a wine room. Designing wine racks requires skills and creativity. At Vintage Cellars, their goal is to create visually appealing and functional wine racks designed to meet the requirements of the client. In this closet wine cellar conversion project, Vintage Cellars customized the wine racks to incorporate all the features that the homeowners wanted for their home wine cellar.  
Before creating 3-dimensional drawings that show the racking styles, dimensions, and bottle capacities, Vintage Cellars made a careful assessment of the client's requirements. Their team came up with a beautiful wine storage system to accommodate 812 bottles.   
The CAD images show the different elevation views of the complete wine room. These are Elevation 1, Elevation 2, and Elevation 3. 
Side Walls (Elevation 1 and 2)
Vintage Cellars mirrored the racking on the left and right walls of this home wine cellar. In the top section, you will find individual wine racks that store the bottles with the cap facing out. It also consists of a 4-level horizontal wine display rack that stores the bottle sideways. Vintage Cellars installed a high-reveal display row in the middle of the racking on the back wall. It holds the bottles at a 15-degree angle to keep the cork moist.  
The bottom section consists of six rectangular bins, ideal for bulk storage. The client can use wooden cases or just place the bottles on top of each other. This style of racking helps to manage one's collection conveniently.  
Back Wall (Elevation 3) 
The back wall is the focal point of this residential wine cellar in Miami. Vintage Cellars installed an arch opening with a tabletop. The tabletop provides additional space for decanting and serving wines. The arch opening is surrounded by individual wine racks, and there is a display row on both sides. They also incorporated diamond bins at the bottom of the tabletop. 
Wine Rack Material: the Ideal Choice
The most popular material used for manufacturing wine racks is wood. It is renewable and easy to work with. Moreover, the charm and timeless appeal of wood are no doubt the reasons it is a favorite choice of homeowners, builders, and designers.   
Wood wine racks have an earthy feel that creates a warm ambiance in wine cellars. In addition to being attractive, they are also known for their sturdiness and stability. The different types of wood used in building wine cellars are Mahogany, Alder, Pine, and Redwood. 
In this project, Vintage Cellars installed Premium Redwood wine racks. This wood species is known for its natural beauty. Its reddish color becomes richer over time. Its high resistance makes it ideal for highly humid conditions like refrigerated wine rooms. A Dark Walnut stain was applied to the wine racks, complementing the color of the wood flooring.   
Wine Cellar Cooling System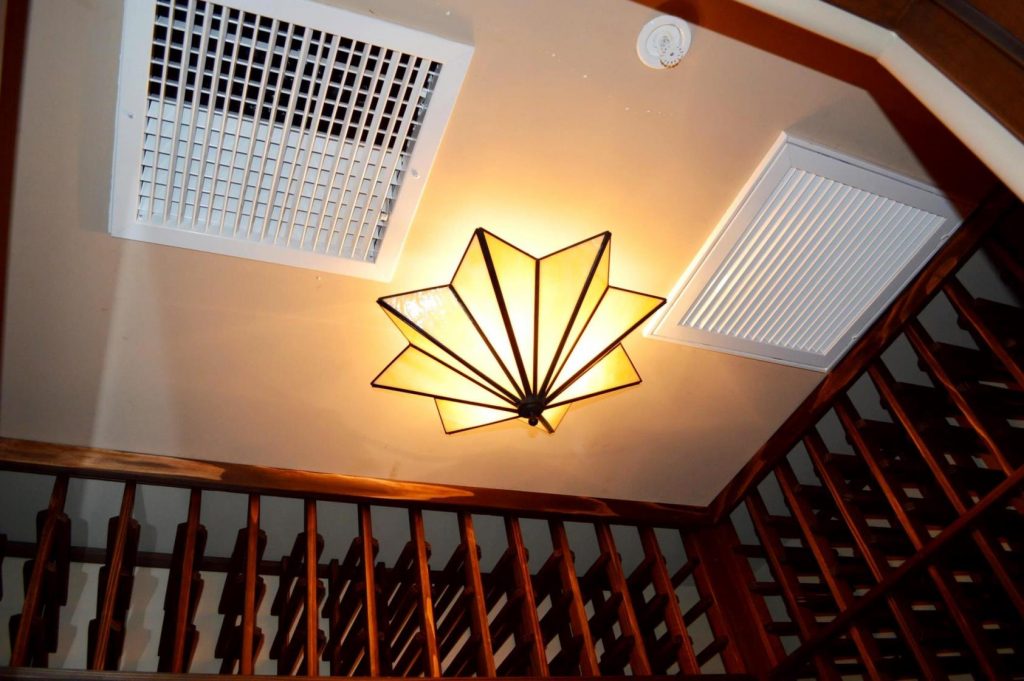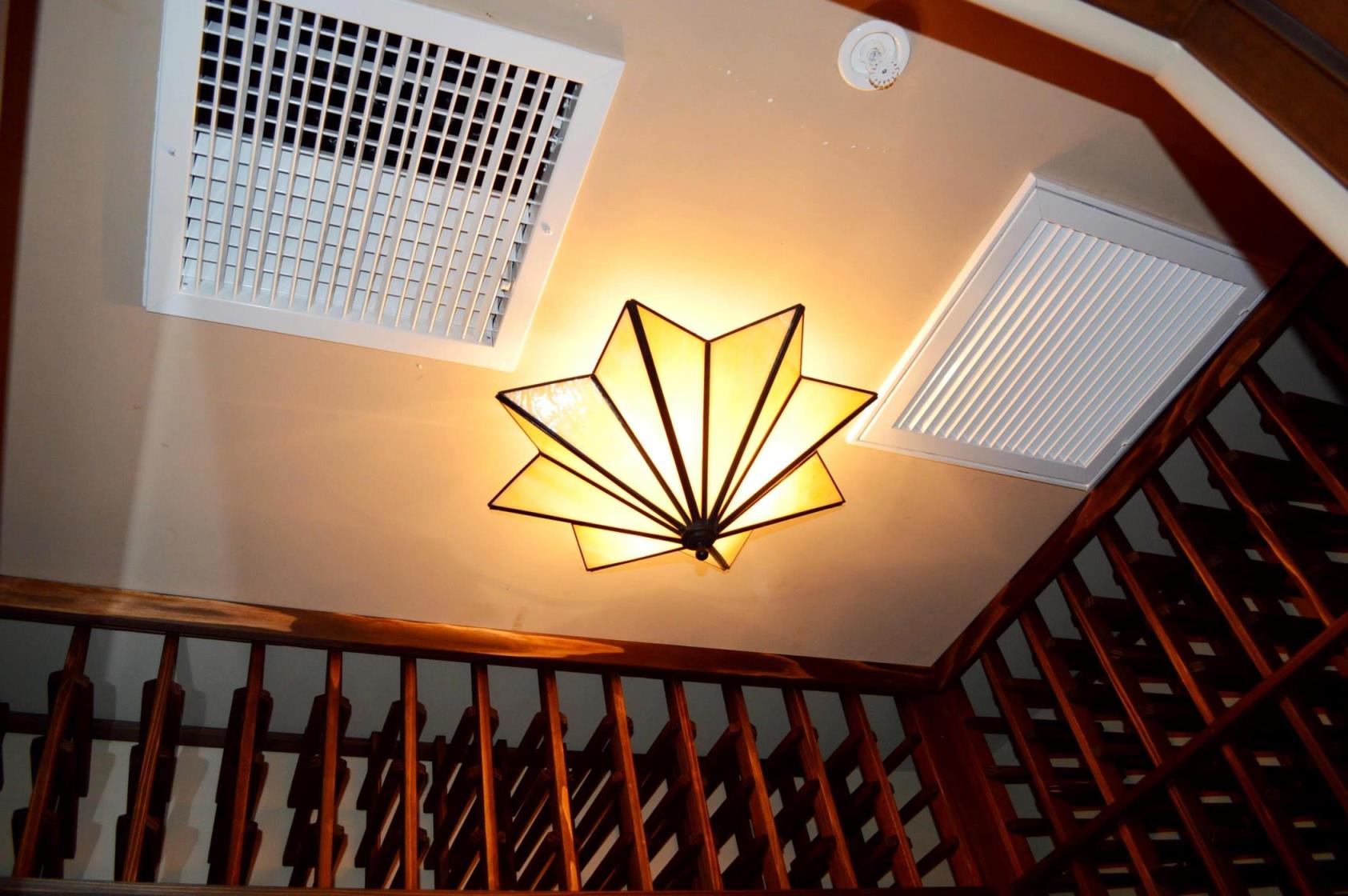 Wine needs a stable environment to age gracefully. Poor storage conditions will deteriorate win quickly, causing it to be undrinkable. Your chosen builder must understand the crucial role of a wine cooling unit in preserving the characteristics of your wines. 
Performing a heat load calculation will help with the proper sizing of the cooling unit. Doing so will ensure that the refrigeration system is not too small or too big for the wine room.   
The ideal wine storage temperature is 55 to 65 degrees Fahrenheit, while the humidity level should be between 60 and 70 percent. In this project, Vintage Cellars installed one of the self-contained wine cooling systems from Wine Guardian. 
The refrigeration unit sits on a platform in the attic above the ceiling, and comes with a drain pan underneath. If an attic is not available, there is an option to place the unit outdoors, about 25 feet away from your wine room.  
Wine Cellar Door
The entryway is another essential component in wine cellar construction. It should not only complement the style of your wine cellar but should be manufactured and installed by a professional. It should help prevent air leakage to and from the wine room.  
At Custom Wine Cellars Miami Florida and Vintage Cellars, our doors are attractive and made from an exterior-grade material, and equip them with sealing components.  
In this closet wine cellar in Miami, the Vintage team installed a dual Barolo glass door made of a wooden frame with glass at the center. The glass panels are dual-paned and thermally insulated to reduce condensation build-up and varying humidity levels. 
Transform an Unused Space in Your Home into a Stylish Wine Cellar. Work with Miami Experts!
Vintage Cellars completed a closet wine cellar conversion with pride. They incorporated stylish features into the wine rack design. They created a safe and beautiful wine room despite the small space.  
Do you have any questions or want to talk to a specialist? Please call Custom Wine Cellars Miami Florida at +1 (954) 607-2092.