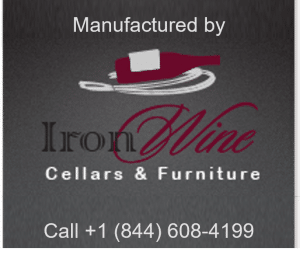 When it comes to wine display systems, IronWine Cellars is one of the leading wine cellar designers and suppliers in the industry today. They've produced remarkable wine cellar racks, including trendy cable wine racks popular in a lot of modern and contemporary wine cellars.  IronWine Cellars' cable wine racks can be applied in both residential and commercial wine cellars and they can help turn more profit through their sophisticated and sleek aesthetic.  In this article, you'll learn more about IronWine Cellars' cable wine racking system, including the different parts that make it up and how we install them inside a wine cellar.
The IronWine Cellars Cable Racking Difference
Cable wine racks are next-level innovations in the wine cellar industry because of their design and functionality. They welcome better air distribution due to the slender nature of the cables, cooling the entire rounded surface of the wine bottles completely. You won't have to worry about your wine spoiling because they're exposed to the right temperature in the right way.
Durable and Limitless Wine Storage Option
IronWine Cellars' cable wine racks are assembled onsite. Each tension set is packaged separately so you can build and expand as you please. As of the moment, The height of each tension set is up to 10ft. However, you can put tension sets side-by-side as long as your space permits. So yes, the expansion is horizontal. One column or tension set can hold up to 24 standard-sized bottles. That's about 180 liters of wine! If you're worried about the cables snapping, you don't have to because the cables are made of premium steel, and they undergo comprehensive quality assurance and testing before they're shipped out!
Aesthetic Versatility
Cable wine racks are often applied to modern and transitional wine cellars because of how metal looks. However, these cables actually look equally good in traditional wine cellars as well. You can combine them with wooden elements inside a wine cellar and they will as stunning.  So far, we have installed most of our cable racking systems amidst our acrylic L.E.D light panel. This is one of the best approaches to highlight the entire rack. With our light wall, the illumination is dispersed more evenly and is not only concentrated in one part of the collection.
If you want to learn more about IronWine Cellars' awesome cable racking, bookmark this page as we are adding more details SOON!
You can also contact IronWine Cellars' directly at +1 (844) 608 – 4199 to order the cable racks today or get in touch with us at Custom Wine Cellars Miami, Florida by dialling +1 (954) 607 – 2092.