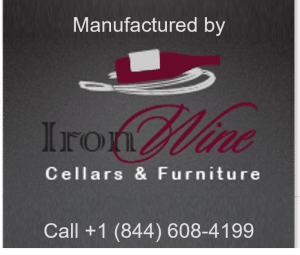 IronWine Cellars has been taking the local wine cellar-making industry by storm with its ultra-sleek wine bottle peg racking systems. All their wine racks are commercial-grade and designed to hold heavy weights, especially when the bottles are full. The pegs come in different modern finishes, and you can order the sets sparingly depending on how fast you're adding bottles to your wine collection.
Timeless Wine Cellar Peg Racks That Never Go Out of Style
One of the great things about IronWine Cellars' wine racks is their versatility. Whether you're going for a combination-style wine cellar or a fully modern wine cellar that only contains metal and glass features, IronWine Cellar's metal peg wine racks can go with the aesthetic pretty well. On this page, you'll learn about the details surrounding the metal wine pegs, including how big the pegs are and how you should install them inside your cellar.
Stay tuned for more information about IronWine Cellar's modern wine racks! MORE DETAILS COMING SOON!
If you want to install IronWine Cellars' cable wine racks inside your wine room a.s.a.p, get in touch with them directly at +1 (844) 608 – 4199 or contact the Custom Wine Cellars Miami Florida team at +1 (954) 607 – 2092.