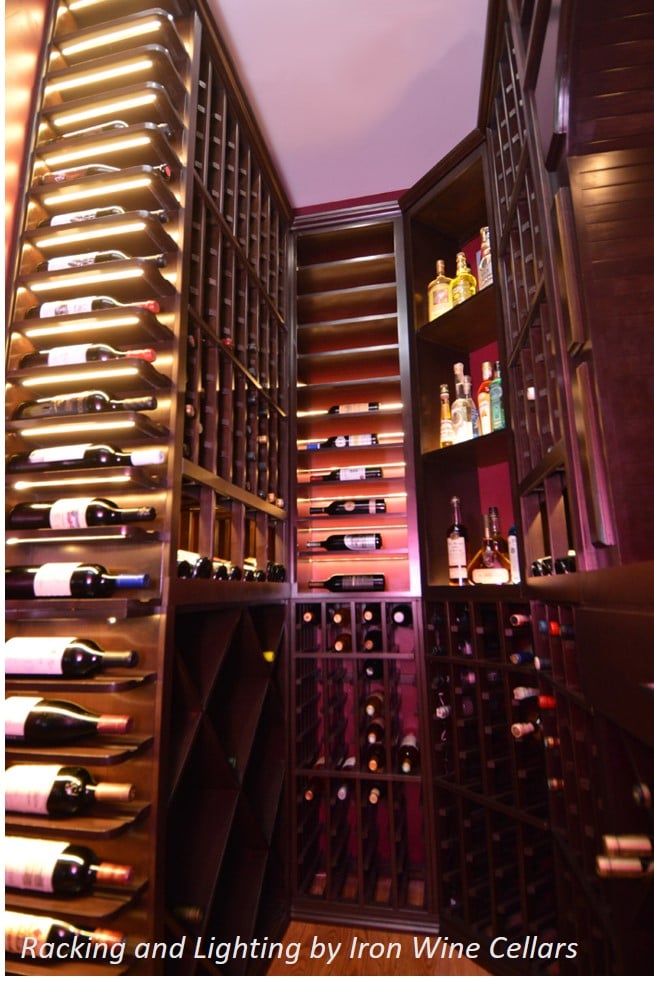 Products Featured in This Project:
Wooden Wine Racking created by Iron Wine Cellars
Acrylic Light Panels by Iron Wine Cellars
Wine Cellar Door by Iron Wine Cellars
Cellar Designed and Built by Steve Pantalemon
Cooling System Manufactured by US Cellar Systems
Custom Home Wine Cellar with Tastefully Designed Wood Wine Racks
The owners of a high-end home reached out to Custom Wine Cellars Miami Florida, because they needed the help of an expert for their project. They have wines and liquors in their collection, and they wanted to invest in a refrigerated wine storage facility designed to display their collection with style. Their home is located in a 10-acre vineyard.  
We made a thorough assessment of their needs to create and install the perfect wine storage system, door, and cooling unit for their elegant home wine cellar. The wine room we built is located next to their living area.  
Rustic 
and Stylish 
Wood Wine Racks
 for Wines and Liquors 
When building wine cellars, Steve Pantalemon, a master in building wine cellars, always designs wine racks with form and function in mind. We want our clients to have easy access to their favorite vintages while enjoying the relaxing ambiance in their wine storage facility.  
Upon entering the wine cellar, you will be greeted by a beautiful arch display on the back wall. It comes with a tabletop where the owners display a few of their bottles vertically. It was also a great feature in the home wine cellar because it provides a space for decanting and serving the wine. We installed a puck light to highlight the area with elegance. 
Above the arch are two levels of horizontal wood wine racks. We added a drawer below the tabletop untended for storing wine accessories. Below the drawer are solid diamond bins for bulk storage. The bottles are stored on top of another.  
We incorporated the same racking styles on both sides of the arch display, consisting of individual wine racks displaying standard bottles in a cork-forward orientation and high-reveal display rows for displaying the bottles at an angle.  
On the left walls, we added lit-up panels for the client's cool-looking liquor bottles and a column of horizontal display wood wine racks, which show off the wine labels. We finished the entire racking with a rustic stain lacquer to give the wood wine racks a richer look.    
Wine Cellar Door
In addition to the racking design, we also want every entryway to be as beautiful as the racking. We offer different styles of wine cellar doors. You can choose a pre-hung or a custom door, depending on your needs. We have solid wood doors made from exterior-grade materials, recommended for traditional home wine cellars. We also have glass doors for adding a contemporary appeal to wine rooms.   
In this project, we installed an elegant arched glass door to match the arched doors and windows in the house. Our wine cellar door here has an arched wooden frame made of Knotty Alder that matches the wood wine racks. The door has a glass panel as the core. We used thermally insulated glass panels to prevent condensation formation in the wine room.    
We also want every door to perform its primary function, which is to seal in the cold air inside your refrigerated wine cellar. We use and recommend the LVL (laminated Veneer Lumber) technology, which we used in this residential wine room installation project. This technology is widely used by master builders because it increases the stability and strength of the door.    
When installing doors for wine cellars, we always ensure that it is equipped with sealing components to create an airtight seal. In this wine room project in California, we used the Q-Lon seal, which is known as an efficient way to minimize the gaps around the door, regulate the temperature of the wine cellar, and keep the energy consumption at a normal level.  
We also added an automatic door bottom, which is a retractable mechanical feature that pops up when the door is opened and snaps back down when it is closed. It is very useful for keeping a good seal inside the wine room.  
Effici
ent Wine Cellar Cooling System  
Choosing the wrong wine refrigeration system will result in wine faults and a significant expense in the future. You can avoid this costly mistake by working with an expert like Custom Wine Cellar Miami Florida.  
Performing a heat load calculation is a standard procedure we follow as one of the top–notch wine cellar builders. This step is essential in determining the right size and type of wine cooling unit ideal for every wine room.   
In this project, we utilized the HS unit from US Cellar Systems. We ducted up the evaporator in the attic, and the condensing unit was placed outside in the garden area covered with flowers and bushes. Since the condenser, which is the noisier component of a refrigeration system, was not installed inside the wine room, no noise can be heard from the equipment.  
Let Us Incorporate Wood Wine Racks 
into
 Your Home Wine Cellar Design 
Wood wine racks have a timeless beauty that makes them a favorite option for wine collectors. In this home wine cellar project, the wine racks we installed are both attractive and functional. 
We transformed a small space into an awe-inspiring wine display and storage area. Let us help you with your own project! Please call us at +1 (954) 607-2092.