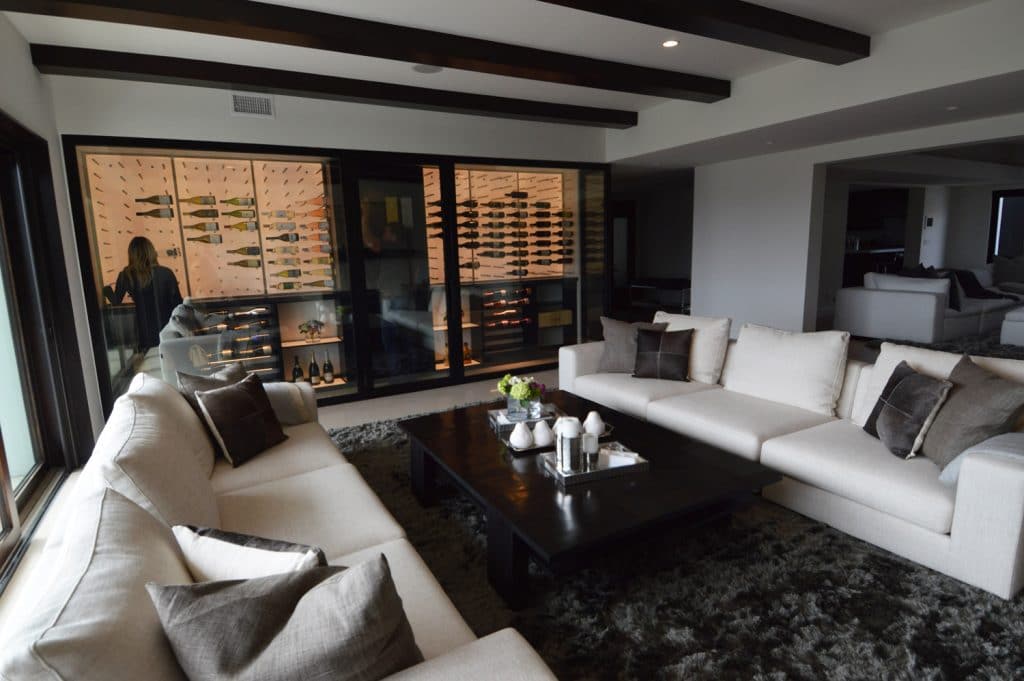 A creative and inspired choice of lighting system can make the overall appeal of your wine cellar.
The wrong choice on the other hand can harm destroy the look and worse actually damage your prized wine collection. This is due to heat damage and temperature fluctuations.
Learn more about the importance of proper wine cellar lighting and what Custom Wine Cellars Miami FL recommends to keep your collection safe for many years to come. 
The Importance of Proper Wine Cellar Lighting in Miami Wine Cellars
One of the most significant components in Florida wine cellar construction is the lighting system. It can make or break the appearance of the completed wine display. Choosing the wrong type of wine cellar lighting can also damage your wine collection.
You and your favorite vintage wines will reap benefits from choosing the right choice of lighting system for your wine room.  Here at Custom Wine Cellars Miami FL, we help our clients determine the best lighting system to be used for their projects.
Sets the Mood that You Want
Thoughtful wine cellar lighting sets the mood in your wine cellar.
The mood of your wine cellar is greatly influenced by the type of lights that you use. It is vital to discuss your requirements with your wine cellar installer.
For residential home-based wine cellars, an impressive wine cellar lighting system can wow guests. It can also significantly enhance the sellability and value of your home.
The stunning lighting of commercial wine displays (e.g. hotels, restaurants, or bars) has a major impact on enticing customers to check out the wines that you sell and may result in a purchase.
It can also enhance the dining experience of your guests. When they enjoy eating at your establishment, they will tell their friends and families about it. Your commercial wine cellar display can influence the likelihood you will benefit from word-of-mouth marketing and result in a higher sales revenue.
Keeps Your Wines from Heat Damage
Wine is sensitive to heat a general problem in Miami and in Florida generally. In addition to installing an efficient wine cooling system, the right type of lighting will also keep your wines safe from heat damage.
This is the reason why wine should not be stored near the windows or other areas where it can be exposed to direct sunlight.
Wine Display Row Lighting
Wines are traditionally stored in colored glass to create a dark environment thereby protecting wine from the harmful effects of UV light. Exposure to ultraviolet rays alters the chemical properties of the wine, resulting in an undesirable or "light-struck" flavor.
High temperatures inherent to Florida and exacerbated by the lighting can cause the cork to shrink and become brittle. When this happens, an unwanted amount of oxygen will get into the bottle and lead to wine oxidation.
An oxidized wine smells like wet cardboard or burnt fruit. You do not want to end up throwing away your favorite vintage due to spoilage.
A dimmer switch should be installed by your builder in order for you to control the brightness of your wine cellar lighting system.
Poor Choice of Wine Cellar Lighting Resulted in Regrets and Disappointments
Custom Wine Cellars Miami FL Recommend Low Heat LED-based Lighting Systems
A homeowner in Florida recently finished his wine cellar project. Everything was beautifully designed. The door had intricate details making the room very enticing to guests.
The wine racks were built attractively and the hardwood flooring design was unique. The only problem with the beautiful wine cellar was the lighting system.
The owner requested incandescent fluorescent bulbs because of the affordability of this type of lighting fixture. Both the homeowner and the contractor had no knowledge about the negative effects of regular bulbs on the quality of the wine.
A few days later, the owner grabbed a bottle of wine and found out that it had an off flavor and the aromas of a wet dog or cooked cabbage. The liquid also had a brownish color. It was undrinkable, so it went to waste.
What to Consider When Choosing a Wine Cellar Lighting System to Prevent a Waste of Investment and Save Money
Stylish Wine Cellar Lighting
With different types of wine cellar lighting systems used in Miami wine cellars, it is best to consult a local expert to prevent a waste of time and money due to damages caused by unsafe lights.
The owner must choose a builder who is knowledgeable about the correct construction of wine cellars. At
Custom Wine Cellars Miami FL, we care for our client's wines and pockets. We always want every component of your wine cellar to be safe, efficient, functional, and beautiful.
We recommend the LED (light-emitting diode) lighting system because of its many benefits. It illuminates wine cellars safely without compromising its dramatic appeal.
LED lights emit less amount of heat of compared to incandescent bulbs, making them a favorite choice in wine cellar construction. They are low in voltage and do not produce harmful UV rays that can harm your wine's quality.
In addition to keeping your collection safe, using LED lights will also save you money in the long run. Although they are more costly than regular bulbs, they have a longer lifespan and consume less energy.
Stunning Lighting Options for Residential and Commercial Wine Cellars
Recessed Lighting
There are many styles of lighting to choose from. Custom Wine Cellars Miami FL will choose a lighting system that best suits your aesthetic taste and meet your financial requirements.
Recessed Can Lights
The recessed can lights are a popular lighting option for wine rooms. They can be used as the main light of your wine cellar or to highlight specific areas where it is needed the most. They come in various shapes, styles, and sizes, making it easier to create the mood that you desire for your storage space.
Track Lighting
If you want to highlight the bottles stored in the vertical or display rows in your wine racks, track lighting is the ideal option. Also called "spotlight", track lighting offers flexibility in configuration, style, and installation options.
The track heads can be moved in any direction you want. Track lights are commonly mounted on the ceiling, the walls, or cables as well.
Ribbon Lights
Also called Channel Lights, we utilize these most often within wooden wine racks — in high reveal shelves and horizontal shelves. These are great for lighting up tight spaces within a wine rack, and they're installed beneath the racks so you don't know it's there unless you turn them on.
Indirect Wine Cellar Lighting
Chandeliers Add a Vintage Look to Your Wine Cellar
You may opt for indirect lighting, such as wall sconces, which are affixed to the wall. Before electricity was discovered, wall sconces were once used to hold or secure candles to the walls of homes.
Wall sconces free up floor space and cast a great spread of light. Sconce types include candle sconces, electric bulb sconces, and electric candle sconces.
The shape of the bulb affects how the light spreads. If you want an upward light, use a half-moon-shaped bulb. Other options include a full-cover opaque lens which imparts a moon-glow effect.
Chandeliers
Are you seeking a vintage look and a royal touch to your wine storage room? Chandeliers are a great choice for you! The earliest chandeliers were used in medieval assembly places.
Nowadays, chandeliers are used as a decorative focal point for a room. They are ceiling-mounted fixtures, often large with two or more light-bearing arms. Ornate chandeliers contain dozens of lamps and complex arrays of glass or crystal prisms, illuminating a room with refracted light. Keep in mind that the size of your chandelier must complement the size of your wine cellar.
Some styles include contemporary, designer, crystal, and customized chandeliers. If you are on a tight budget and still want to have a symbol of wealth in your cellar, Coastal's lighting consultants can give you the best suggestion to guarantee that the chandelier matches your home décor.
Work with a Knowledgeable Builder
Custom Commercial Wine Cellar Lighting by Custom Wine Cellars Miami FL
At CWC Miami FL, we design and build functional and beautiful wine cellars that will give our customers a place where they can fully enjoy moments with their wines. One key to fulfilling this goal is by having the proper wine cellar lighting in it.
Check out our wine cellar gallery or possibly some of our full project write-ups such as the custom wine cellars Orlando or the Fort Lauderdale Contemporary Mini Wine Cellar or the Palm Beach Custom Wine Cellar Geek for examples and inspiration.
Our lighting experts will ensure that you have full control over the light which affects the climate conditions in your wine room all the while achieving a stunning lighting effect in displaying your wines. Enjoy lighting up your cellar!
Contact Custom Wine Cellars Miami FL today! +1 (954) 607-2092 or use our wine cellar design form.